"It's Just Heartbreaking."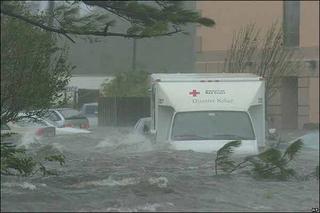 I was going to begin this post with the words, "In the Aftermath of Hurricane Katrina...," but that would not be accurate at all. The disaster facing our American cousins in the US south is extraordinary and horrifying and still unfolding.
New Orleans is not through the worst of it yet as flood waters from Lake Pontchartrain continue to pour into the city through burst dikes. The devastation is so widespread it appears to have overwhelmed the local disaster response capability. This is a very difficult situation and it may well get worse before it gets better. President Bush has declared the affected states a disaster area.
"The situation is untenable," said Governor Kathleen Blanco of Louisiana. "It's just heartbreaking."

There is still no official death toll from the city, although there are reports of bodies floating in the the rising, muddy torrents that have submerged parts of the city under 6m (20ft) of water. Last night Mayor Ray Nagin said that rescue boats were passing them by. "We're not even dealing with dead bodies," Mr Nagin said. "They're just pushing them on the side."

With the water supply polluted by the floods and no likelihood of electricity for weeks, Governor Blanco called on those remaining in the city to leave via its one remaining motorway. Yesterday police struggled to distinguish between looters and hungry families as armed groups broke into shops to steal food and supplies.

In the Superdome stadium, where an estimated 20,000 people have taken
shelter, some for days, in dark, unsanitary conditions, the floodwaters have
rolled in and are starting to rise. Governor Blanco promised the stadium would
be evacuated and asked people to pray.

"That would be the best thing to calm our spirits and thank our Lord that we are survivors," she said. "Slowly, gradually, we will recover; we will survive; we will rebuild."

Elsewhere along the devastated Gulf Coast, the death toll in just one Mississippi county rose above 100 when a massive surge of seawater swept through
the coastal town of Biloxi. Officials said the final number of dead might reach
300.
Our thoughts and prayers are with you today.
Question for Prime Minister Martin. How can we help? How about deploying the Canadian Forces Disaster Assistance Relief Team (DART) for starters. No dithering this time please.